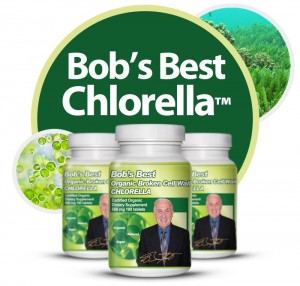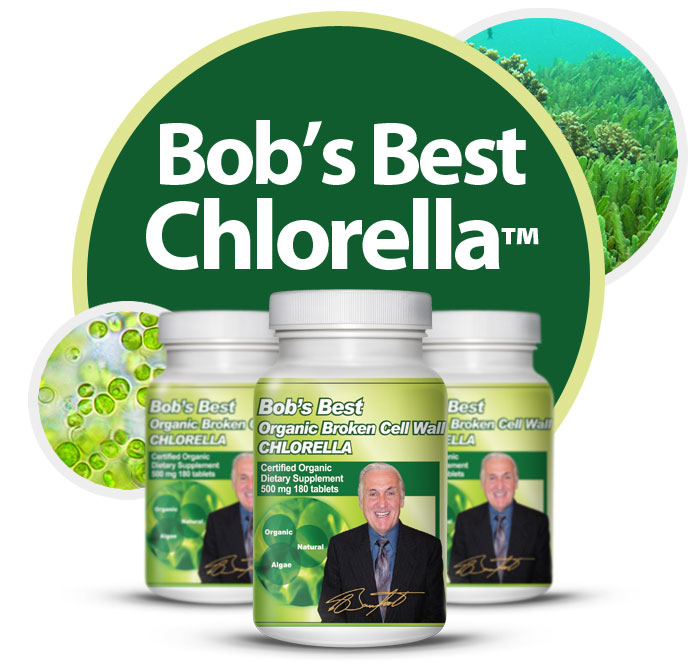 At a time of modern advancements in medical practice and technology, pervasive and complex health issues continue to pose a serious threat to individuals, societies and governments around the world.
Nutritionist and alternative health advocate Bob Barefoot puts forth an idea—go back to basics and harness the natural therapeutic properties of nature. This is the main thesis behind his latest product—a health supplement made with a medically known "super food"—called Bob's Best Chlorella™.
Bob's Best Chlorella™ is made with Barefoot's specially chosen, superior pyrenoidosastrain of chlorella—a single-celled, fresh mountain spring water grown plant and whole food from pure green algae. According to various sources, chlorella can be used to help reduce radiation treatment side effects, boost the immune system, increase white blood cell counts, improve digestion, reduce cholesterol and asthma attacks, treat various diseases including hypertension, and detoxify the body, among other health benefits.
"The amazing medicinal potential of chlorella inspired me to study it further and create a product that maximizes its therapeutic attributes," Barefoot said."Bob's Best Chlorella™ is the result of years of research and refinements combined with a keen understanding of health issues that affect us today."
Super health benefits
Bob's Best Chlorella™ packs four main health benefits. First: it can be used for "super purification" to help keep cholesterol and blood pressure levels down,and to maintain healthy joints especially among older people. A clinical study found that 50 percent of patients "showed good or better control of their blood pressure levels" with chlorella, while 88 percent of patients who took chlorella "saw an improvement in the index that measures their symptoms, and 45 percent enjoyed less pain."
Barefoot explained that the chlorella in Bob's Best Chlorella™ has the highest known percentage of chlorophyll in the world. The chlorophyll and fiber in each cell assists your body's ability to get rid of heavy metals, pesticides and every day toxins making it a powerful purifying agent.
Second,this new, certified organic health supplement was designed to help the body boost its natural defense system to better fight off disease-causing germs and microorganisms. It also aids in the stimulation of the body's health-protecting T-cells. Third, because of its effective purification properties, Bob's Best Chlorella™ is also helpful in fighting off the harmful effects of aging. Chlorella Growth Factor, unique to chlorella, provides a rich source of nucleic acids and polysaccharides, also known as the body's building blocks, which help stimulate and revitalize the body as it ages through cell renewal and restoration. This translates to a natural youthful glow.
Finally,Bob's Best Chlorella™ is a good source of "super energy" because the chlorella in this supplement acts as a catalyst that helps the body's cells absorb more oxygen. Low oxygen levels have been linked to increased incidences of fatigue and a feeling of overall weakness.
Optimizing nature's best
According to Robert Barefoot, Bob's Best Chlorella™ differs from most health supplements in the market today in that it has a unique composition which takes into consideration the preservation of naturally-occurring health properties.
He added, "Whereas the manufacturing process of most supplements today depletes its naturally intended nutritional value, Bob's Best Chlorella™ harnesses the often untapped value of pure whole foods. It's almost literally bursting with over 20 different vitamins and minerals, healthy fats, essential amino acids your body needs to function well and the unique chlorella growth factor. It's also an abundant source of fiber and beta-carotene, even more than your average spinach."
Bob's Best Chlorella™ uses meticulously grown (in full sunlight and pure mountain spring water) and harvested chlorella algae from the island of Taiwan (formerly known as "Formosa") which has been proven to produce the highest quality and cleanest variety of the ancient pyrenoidosa chlorella algae strain. There search and production of the product has been carefully supervised by Barefoot himself, who has established a strong following in the alternative and natural supplement industry. Barefoot is also known for his extensive research on the health benefits of natural minerals (coral calcium) and natural vitamin d3. His other health supplements have received rave reviews from happy and satisfied users who swear by its effectiveness.
Bob's Best Chlorella™ is now available from Coral Calcium Direct with a 100 percent satisfaction assurance.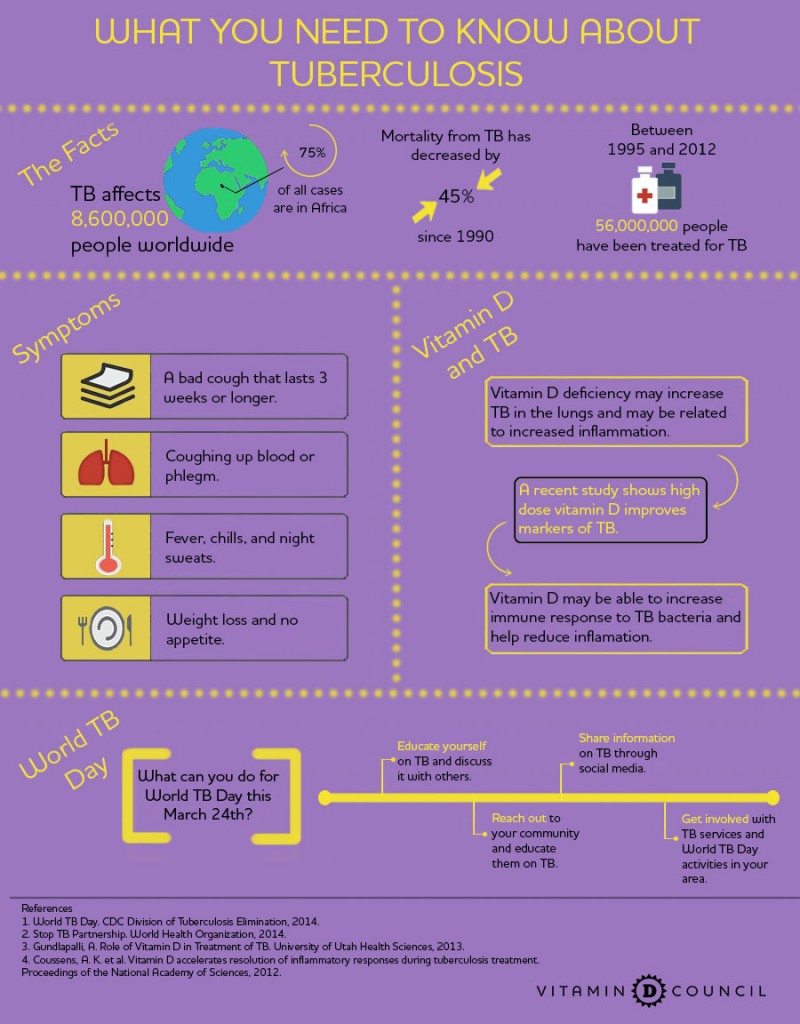 Today, March 24th, is World Tuberculosis Day. World Tuberculosis Day is a day to raise awareness about the infection and solutions to support worldwide control efforts of tuberculosis.
Tuberculosis (TB) is a bacterial infection. The bacteria, Mycobacterium tuberculosis, commonly attacks the lungs, but can also infect other parts of the body such as the kidneys and brain. TB can cause fevers, pain in the chest, weakness, and coughing up blood and phlegm. If not treated, TB can lead to death.
There are about 9 million people each year who are diagnosed with TB. Seventy-five percent of these cases occur in Africa. People with HIV or other health problems have a difficult time fighting infection and are more at risk for TB. TB can be spread when someone coughs or sneezes and others nearby breath in the bacteria.
Vitamin D and TB
Some research suggests that vitamin D supplementation may help some aspects of TB. In fact, in the early 1900s, cod liver oil and sunshine were used as treatment therapies for TB, suggesting a role for vitamin D in helping those with TB. Some newer research also suggests that vitamin D supplementation is helpful if you have TB in order to speed recovery.
Vitamin D can bind to immune cells and help these cells fight against and contain the TB bacteria. Researchers are also interested if vitamin D can help in improving lung function and breathing among those with TB.
People newly diagnosed with TB often have low vitamin D levels compared to people who don't have TB. Thus, doctors and scientists think that low vitamin D might be a risk factor in contracting TB.
What can I do?
The World Health Organization and the International Union Against Tuberculosis and Lung Disease created the first World TB Day in 1982, one hundred years after Dr. Robert Koch discovered the bacteria that caused TB. World TB Day is a time to become aware and educate others on the prevalence of TB and how it can be stopped.
For 2014, the theme of World TB Day is "Reach the 3 million". Of the 9 million people diagnosed each year with TB, around 3 million people don't receive the health services they need.
Want to get involved and help reach the "missed" 3 million? Here are a few ways how:
Fundraise. You can help contribute by fundraising and donating to the research and development of TB treatment therapies.
Spread the word. Form a local World TB Day planning committee to come up with different strategies and activities using the Stop TB resource guide. You can also download and print Stop TB awareness posters to share in your local community.
Attend an event. Find an event or activity in your community to join and help spread awareness on the need for access to TB treatment options. See a list of activities and events, here.
Join a patient organization. If you have TB, you can join a patient organization to help be a powerful advocate for improved access to diagnosis and treatment of TB.
Source
People who read this page, went on to read the following pages:
Oldest Living People in the World
Coral Calcium – Goes Beyond Bone Healing
Why do I get tired during the wintertime months?
During the wintertime our levels of vitamin d drop significantly (more than 50 percent in the northern areas) because we do not get enough sun exposure and even if we do, the sun is not as strong in the winter, even in the South, and vitamin d levels can fall.
We recommend that you get your vitamin d levels checked because low levels can contribute to your fatigue. Vitamin D is also critical for every cell in your body, bone health and calcium absorption.  If your levels are below 50 ng/dl (nanograms per deciliter) you must supplement.  Bob recommends 5,000 to 10,000 IU of vitamin d3 per day which is a safe and effective dose for most people.
It is best to keep your vitamin d levels between 70 and 100 ng/dl.   To do this, Bob has a supplement designed to help.  Bob's Best Vitamin D3 or Call 888-654-7776
Hyaluronic Acid – Nature's Moisturizer
High Molecular Weight Hyaluronic Acid (HA) can be found in all joints, eyes and connective tissues where it lubricates the moveable parts of your body.  The wear and tear of our body is maintained and resisted by Hyaluronic Acid, but as we age, our HA levels drop and as a result we begin to notice deterioration of our body.
High molecular weight, natural source and thickness are all crucial in the supplementation of our body's declining reserves.  As we age the viscosity of the joint fluid breaks down and becomes thin and unable to cushion the joint cartilage. This leads to increased friction and corrosion on the cartilage surfaces of the joints. Hyaluronic Acid helps to restore the normal viscosity of your joint fluid and to prevent further damage to your joints.
Although Hyaluronic Acid can be found naturally in all bone and connective tissues, it has the greatest concentration in the skin tissue. It is found in both the deep underlying dermal areas as well as the visible epidermal top layers. Young skin contains large amounts of HA which helps keep it smooth and elastic, but just as with bone and connective tissue, HA in the skin decreases with age. The body struggles to produce Hyaluronic Acid which leaves the skin unhealthy and wrinkled.
Each of our Hyaluronic Acid products yields the highest quality ingredients to restore Hyaluronic Acid deficiency throughout the body.  To meet your specific needs we provide various forms of Hyaluronic Acid including pure, oral liquid, as well as skin serum and skin cream solutions.  Improve your life today with effective, high quality Hyaluronic Acid!
View our extensive product line that can help you:
-Soothe and Moisturize Joints and Muscles
– Improve Skin Appearance
– Nourish and Rejuvenate
– Restore Mobility
    – Safely Relieve Joint Pain
Coral calcium is a dietary dietary supplement that people can consider to increase their calcium needs. But similar to other nutritional supplements, it's unavoidable which international students have individuals which are skeptic as a subject of the unintended results of coral calcium. If you're undoubtedly one of these folks, it is an excellent point which you just come across doing so post as you'll learn the essence and what coral calcium can do for you, in a healthy, and not harmful, types.
To begin with, it's worthwhile to know which coral calcium is and the stick it originated.
Shigechiyo Izumi was the personalized behind coral calcium. He is more than a hundred and ten years old, but he's nonetheless thought of in a outstanding healthful declare even with the old age.
By the revelations of anesthesia exams, Izumi's secret to wholesome and extensive lifestyle was discovered to be his permament usage of Japan coral calcium.
The coral reefs, which kind the place where Izumi lives, produce coral calcium he makes use of as a health supplement. These reefs had been seen to have completely various substance composition related to the skeleton of a individual body type.
The mix of a variety of elements and minerals resulted from the rainwater synonyms which creeps by suggests of the coral reefs. The rainfall water effortlessly turns into plentiful using crucial dietary vitamins and has excessive alkalinity of seven to 8.5 pH value.
Greater compared to 2500 varieties of coral might be identified all through the world. Nevertheless, it is thought that Japan coral calcium has the most special mineral structure a lot useful to the human body type.
Due to this, students have now over 4 million individuals now in Japan by yourself who use coral calcium in their daily lifestyle.
Wealthy in Vitamins and minerals Useful to A variety of Illnesses
Coral calcium is large in 70 four touch of minerals akin to calcium and magnesium, which are essential to the functioning of the body type cells.
The dietary dietary supplement forced from doing so calcium is frequently discovered in capsule sort; nevertheless, most producers have made it in powdered sort which must be blended with liquid beverages as intake.
Various firms possess also improved the benefits or undesired side results of coral calcium by mixing untried and yellow phytonutrients to over sea coral calcium.
It may be well-known that a lot of the ailments at this time are connected with mineral deficiencies. A few of these illnesses include coronary center sickness, most cancers, diabetes, kidney stones, gall bladder, and arthritis.
These precise illnesses could be advanced by building above sea coral calcium in the eating regimen of the particular person as it helps remodeling by supplementing important vitamins and minerals, which are mandated to meet correct pH, or possible hydrogen, steadiness in their body type.
PH stability is outlined to be the volume of hydrogen ion focus promote in a fluid. 7 is thought of the balanced or impartial determinant on a scale of 14.
Individual body is no cost of sickness if its pH consider solely ranges from 7 to eight as a size. Otherwise, it is acidic once it falls beneath 7 and alkaline when above 7.
The correct negative effects of which includes coral calcium into the day by day food regimen are almost nothing however valuable to the normal wellbeing and stop illnesses joined to calcium deficiency.
Because the people age, a lot of the critical micronutrients mandated to maintain lifestyle are depleted due to certain factors.
For that reason, such as coral calcium in the food regimen is a much better and healthful method to curb its impact to your wellbeing.
An ideal Coral Calcium readily available is from Bob Barefoot who is a Scientist and Chemist and professional on Coral Calcium.
Coral Calcium – Goes Beyond Bone Healing
Learn more by calling 800-210-1268
With the increasing number of health supplements these days, you might get confused as to which product will bring you more benefits.
First, you have to ask yourself, "What kind of supplement does your body need?" If you think, it's bone healing that your body requires, then why don't you go for a complete calcium mineral supplement?
Calcium is a very important mineral needed by the body in order to have stronger bones. But do you know that the benefit of calcium does not end there? It actually goes beyond healing and that is through a supplement known as coral calcium.
What is coral calcium?
As the name implies, coral calcium comes from coral reefs, which are living organisms that can be found in the ocean off the islands of Okinawa. However, this supplement is not produced directly from living coral reefs, but instead from the remains of a deceased one. When these coral reefs die naturally, the old replaced coral descends to the ocean floor and eventually settles in pockets about 3 to 5 miles from the reef.  This is where is it ecologically harvested by a company licensed through the Japanese government. It is called coral calcium, because it is really high in calcium but is also contains magnesium and other mineral content because of the tiny polyps that feed on lots of mineral-rich plankton.
Listen to the Audio by Bob Barefoot Here!
How does coral calcium benefit you, aside from bone healing?
Although there are no clear medical evidences or clinical studies which can prove that coral calcium can treat over 200 diseases, it is still proven to be beneficial in many other ways. These include the following:
1.) Promotes the healthy functioning of the heart
2.) Lowers blood pressure
3.) Makes teeth stronger
4.) Helps nutrients disperse across the cell membranes
5.) Combats osteoporosis
6.) Reduces pregnancy problems
7.) Reduces premenstrual syndrome
8.) Alleviates the body from "free radical damage"
9.) Prevents degenerative diseases
10.) Helps overcome calcium deficiency
Can coral calcium fight diseases?
As mentioned above, although some manufacturers claim that coral calcium can cure over 200 diseases, including cancer, this is still left unproven. But as far as fighting diseases is concerned, it can very much provide that. However, other healthy measures should be observed such as consumption of a well rounded diet including coral calcium, reasonable amounts of protein, plant-based nutrients, regular exercise, and living a less stressful lifestyle.
Learn more about the Best Coral Calcium – Bob's Best Coral Calcium 2000
There's no other way to put it: Any doc who's still pushing the government-backed low-sodium diet is a complete ignoramus, plain and simple — because the problem facing most Americans these days isn't too much salt… it's TOO LITTLE!
I don't need to see yet another new study to know those guidelines have been an absolute train wreck — but if you're under the care of an ignoramus, tell him to get out his copy of the Journal of the American Medical Association.
If he actually reads it instead of leaving it on his desk to impress visitors, he'll find a new study showing the REAL levels of salt you need: between 4,000 and 6,000 mg a day.
That's way above the government-recommended limit of 2,300 mg a day, up to quadruple the 1,500 mg a day recommended by the clueless hacks at the American Heart Association, and even well above the average U.S. intake of 3,400 mg a day.
In other words, you might have to BOOST your salt intake to get what you need!
I know that's not what you've been told, but the numbers don't lie: Patients in the new study who got less than 3,000 mg a day were 8.6 percent more likely to die of heart problems and 5 percent more likely to suffer heart failure than patients who got between 4,000 and 6,000.
Of course it IS possible to get too much salt — and the new study proves that as well. But in this case, "too much" is more than 7,000 mg a day — and the only way you could possibly get that is through a crap-tastic diet of packaged foods, TV dinners, fast foods and other processed yuck.
Cook your own meals from fresh ingredients and salt it to taste, and you'll have absolutely nothing to worry about.
Now pass me the salt.
by William Campbell Douglass II, M.D.
Consider adding essential minerals and vitamins to your diet with Bobs Best Coral Calcium 2000
A great question that is asked on a regular basis.
We asked Bob for an answer?  Enjoy!
To understand the potential of coral for health, one needs to understand the ecology of life on coral collections in the ocean. Coral reefs have been dated back over two hundred million years and they are the largest structures, on earth created by any organism.
The beauty of coral reefs hide a secret, that up to one half of all species of fish in ocean live or visit the biomass around coral. In addition to fish, the coral reefs contain hundreds of thousands of different species of bacteria, fungi, invertebrate organisms and plants which interact in a harmonious manner.
This process creates the most effective mineral supplement available now to you!
What should you do?
Start supplementing with the best mineral nutritional product in the world!
by William Campbell Douglass II, M.D.
The clock is running out on 2011, but it looks like there's still time to squeeze in one last phony vitamin panic.
In this one, researchers claim high levels of vitamin D will boost your risk of serious heart problems — despite what their own study REALLY found: that LOW levels of the sunshine vitamin will up your odds of heart failure, high blood pressure, kidney failure, and diabetes.
Of course, they didn't want to talk about any of that.
Instead, the presentation at a recent American Heart Association meeting focused on the most freakish conclusion of the entire study: Patients with the highest blood levels of vitamin D — 100 ng/ml or higher — had a bump in the risk of atrial fibrillation.
Why is it freakish? Because I've been called an extremist for recommending blood levels of HALF that — 50 ng/ml — and even people who live in the tropics and get constant sun exposure all day long generally hover at around 60 ng/ml.
In other words, these just aren't optimal or even realistic levels of vitamin D3 — and I'd bet that very few of the 132,000 participants in the new study actually fell into this category.
We don't know for sure, because the researchers didn't actually break it down for us.
We also don't know how many patients fell into the next-highest category, between 80 and 100 ng/ml, but I'd bet this was the next-smallest group — yet these patients actually had the LOWEST A-fib risk of anyone in the study.
That means we're supposed to believe that 100 ng/ml will prevent the condition — but 101 ng/ml will cause it.
PUH-leaze!
Ignore the panic and take your vitamin D3. Not only are "high" levels safe, but studies have repeatedly found that the sunshine vitamin will boost everything from your cardiovascular health to your immune system.
Winter is here, the sun is low — and you need your D now more than ever.
________________________________________________________
Just another example of the main stream supporting what Bob Barefoot has been teaching for over 30 years.
Just take your Vitamin D each and every day.
Coral Calcium and The Reef
The miraculous chains of life events on coral reefs are highly complex. The basic photosynthetic organisms and plant life provide food for herbivorous (vegetarian) inhabitants such as damsel fish, parrot fish, blennies and puffer fish.
The parrot fish plays a unique role in the biomass of reefs. They use their strong teeth to chew away coral, which is ground in their digestive tract and released to form the ground-up, sandy bases of the reef. In fact, parrot fish and similar "coral munchers" are a prime source of marine coral that is harvested as coral calcium.
The reef has many species that sleep by night and play by day or vice versa. The coral reef has a fascinating bio-rhythm with an interplay of thousands of species of fish, worms, sponges, fungi and transient visitors.
The recognition of the diversity life forces to which coral is exposed makes it easier to understand how difficult it may be to define all of the nutrient benefits that may come from coral. There is a lot we do not know about the dynamics of life surrounding coral.
Coral Calcium has great benefits, consider the best, Bobs Best Coral Calcium 2000.
Coral reefs are sea mountains of minerals which calcium carbonate predominates, along with numerous other inorganic and organic forms of calcium. Calcium is a biological glue and an inorganic building block that is ubiquitous on the planet earth. In order to build a reef, the living coral polyps require specific climatic and ecological conditions. Indeed, coral reefs are most preponderant in warm waters of the ocean which have a range of temperature from 20 degrees C to 30 degrees C, approximately.
Without sunlight the living infrastructure of organisms on the reef that use photosynthesis for nutrition cannot survive. These photosynthetic organisms (zooanthellae-algae) are quite primitive, but efficient in forming a basic nutrient source for the food chain of the reef dwellers. Some marine organisms rely heavily on the photosynthesizing organisms. For example, coral reef sponges obtain the bulk of their nutrients from these organisms and some species of jellyfish harbor photosynthesizes in their tentacles.
Of the vast number of species of coral, two distinct, basic types are recognized. These are the reef-building stony corals and the more delicate soft corals that have an inner skeleton. Not all corals from aggregations into colonies and many soft corals live among the stony corals.
The most interesting aspect of coral is their different and versatile ability to reproduce. They can reproduce by budding in an asexual manner and many polyps can form with remaining connections to its forerunner. Once a year, the corals may spawn filling areas of the reef with massive amounts of eggs and sperm (the reefs are submerged in a cloud if sperm and eggs) which attract plankton eating fish and mammals.
Oceanographers refer to several distinct types of coral reef. The coral reefs in Okinawa are associated with dormant underwater volcanoes and they tend to grow outwards to maintain their submersion in the seas. Fringing reefs are found in the Caribbean and the Great Barrier Reef and related grow along coastal plains which are raised from the seabed. Reefs can grow with amazing variations in architecture that is shaped by the geological circumstances and climate of the ocean.
For the best source for marine grade coral calcium, we recommend Robert Barefoot Coral Calcium.
Are You Experiencing Low Energy?
Feeling Anxious or Depressed?
Forgetting Things?
You're Low on Vitamin B12!
An estimated 46 million Americans are deficient . . .
The standard blood test for B12 is inaccurate . . .
And many low quality B12 supplements don't work . . .
How can one vitamin be so important? Because vitamin B12 is vital to the energy production of virtually every cell in your body . . .
It also works with dozens of important enzymes for a whole host of biochemical processes that are essential to good health.
So if you're vitamin B12 deficient — and millions of Americans are — you're going to develop unpleasant symptoms, and even serious health problems.
The standard blood test for vitamin B12 is wildly inaccurate. People are being told they're fine, when in fact they're deficient.
That means the cause of your symptoms is either not being treated, or it's being mistreated.
Vitamin B12 deficiency is very common in people over age 40 because of our nutrient-starved modern diet, reliance on harsh drugs, and overuse of antacids.
We have great news for you today!
Bob's incredible supplement Bob's Best Coral Calcium 2000 has been recently upgraded to provide even more of the essential high quality vitamin b12 benefits that you so desperately need.
Just one more benefit that Bob provides in his amazing high quality supplement Coral Calcium 2000.  High quality, highly absorbable and effective Vitamin B12!
To understand the potential of coral for health, one needs to understand the ecology of life on coral collections in the ocean. Coral reefs have been dated back over two hundred million years and they are the largest structures, on earth created by any organism.
The beauty of coral reefs hide a secret, that up to one half of all species of fish in ocean live or visit the biomass around coral. In addition to fish, the coral reefs contain hundreds of thousands of different species of bacteria, fungi, invertebrate organisms and plants which interact in a harmonious manner.
Visit us today to learn more about our authentic Coral Calcium products!
Coral Calcium Types – An Explanation
It is important to recognize that two broad, but distinct types of coral calcium, are used as health giving supplements by the Japanese and many people throughout the world.
The first type is fossilized coral calcium that has been deposited on the land mass, or washed up on the beaches. The second type is taken directly from the sea bed. The sea-bed coral calcium is the coral that has dropped from the reef or is processed by reef inhabitants. This type of "coral sand" has been washed to the ocean floor by wave actions. Marine coral calcium is closer in composition to the living forms of corals, because the marine microbes are still active and many minerals and organic elements are retained, in comparison to fossilized, land-based coral.
These are important differences in composition between fossilized (land-based) and marine (sea-bed) coral calcium. Marine coral calcium contains more magnesium, and the balance of calcium (24%) to magnesium (12%) content of this second type of marine coral is close to 2:1. This 2 to 1 ratio is the ideal ratio for calcium and magnesium intake in the human diet.
My research has led me to believe strongly that the natural, magnesium enriched, marine coral calcium is to be strongly preferred as a health giving supplement over land based (fossilized coral), which contains less than 1% magnesium. This superiority of the marine coral is due to its retained, ideal, ionic balance of calcium and magnesium in a 2:1 ratio, and the fact that for the fossilized type, a host of other nutrients were also washed out during weathering processes.
Choose the best product available, Bob's Best Coral Calcium 2000 which has a full of 2,000 mg per daily serving of Marine Coral Calcium.
Bob Barefoot
Chemist, Author, Lecturer on Coral Calcium and Vitamin D3 Supplementation.
Corals belong to the phylum (group) of marine organisms called Cnidaria (Coelenterata) which also includes jellyfish, sea anemones and hydroids. These organisms tend to be symmetrical with digestive tract that has one single opening. They process a "nematocyst" or stinging apparatus which contains and protects the coral polyp with venom of varying potency.
The stony corals are named because they secrete a supporting exoskeleton (outside hard structure). This stony covering contains the soft structures of the living coral polyps. These living corals form reefs which support a large biomass. In tropical waters and some temperate zones theses corals proliferate to a vast degree that builds islands.
A classic example of this geographical phenomenon is the infrastructure of the islands chains in and around Okinawa, Japan.
Coral calcium is derived from reef-building coral and it is harvested from the pristine waters off the Nansei Islands (Rukuyuku and Satsunan), Japan. These islands spread towards the south east from the southern tip of Japan's main land mass towards Taiwan.  Using careful, harvesting techniques that are sustaining for the environment, several companies collect and process coral calcium for use as a food supplement. The Japanese government supervises this collection process and they provide special certification to certain types of coral.
Under a microscope, coral appears as tubes, horns and honey combs. It has the appearance of an abandoned city. Coral calcium has been officially recognized by the Japanese government as a valuable food supplement. This official standing was registered by Japan in July 1989, but the coral sands have enjoyed thousands of years of local use as an important source of health giving nutrients in the diet of Okinawans.
It was discovered by the early Spanish explorers, 500 years ago, who filled their ship holds with the coral sands. The chemists in Spain, attempting to discover the reason for its miraculous curative properties, discovered that the main ingredient was calcium, so they renamed it "coral calcium." Today, tens of millions of people around the world consume coral calcium daily.
So, join us, one of the millions who use Coral Calcium to supplement our diets with essential minerals and nutrients only nature could provide.
Bob's Coral Calcium Recommendation Found Here.