Vitamin D and Tuberculosis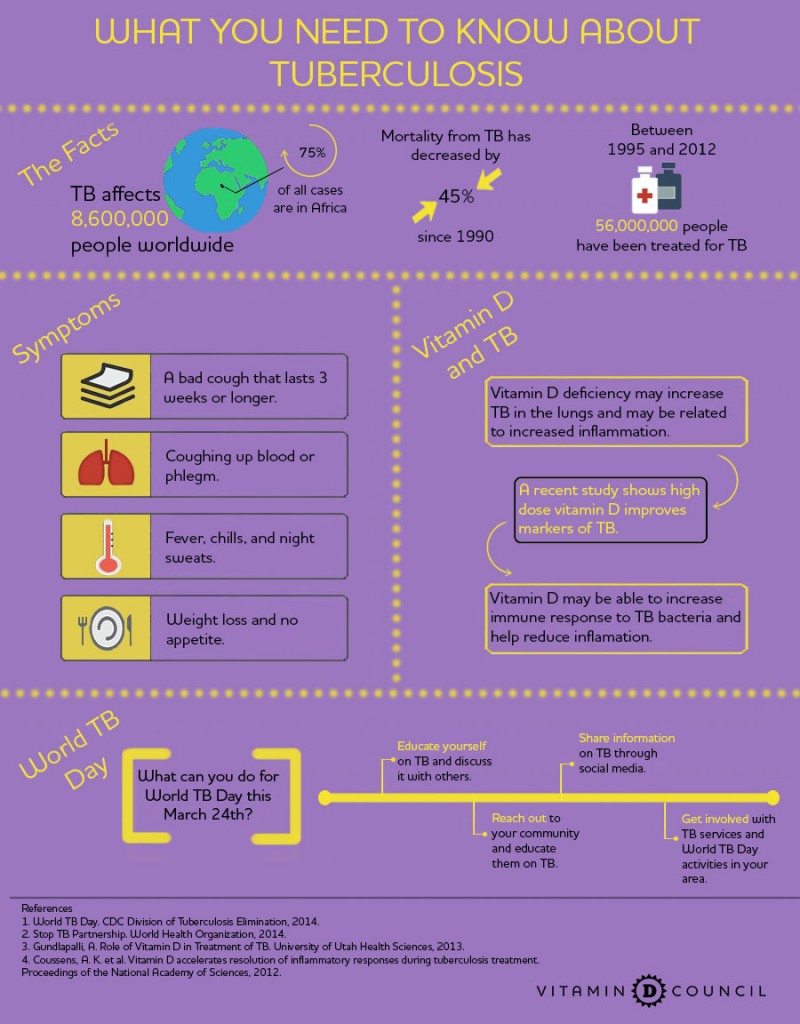 Today, March 24th, is World Tuberculosis Day. World Tuberculosis Day is a day to raise awareness about the infection and solutions to support worldwide control efforts of tuberculosis.
Tuberculosis (TB) is a bacterial infection. The bacteria, Mycobacterium tuberculosis, commonly attacks the lungs, but can also infect other parts of the body such as the kidneys and brain. TB can cause fevers, pain in the chest, weakness, and coughing up blood and phlegm. If not treated, TB can lead to death.
There are about 9 million people each year who are diagnosed with TB. Seventy-five percent of these cases occur in Africa. People with HIV or other health problems have a difficult time fighting infection and are more at risk for TB. TB can be spread when someone coughs or sneezes and others nearby breath in the bacteria.
Vitamin D and TB
Some research suggests that vitamin D supplementation may help some aspects of TB. In fact, in the early 1900s, cod liver oil and sunshine were used as treatment therapies for TB, suggesting a role for vitamin D in helping those with TB. Some newer research also suggests that vitamin D supplementation is helpful if you have TB in order to speed recovery.
Vitamin D can bind to immune cells and help these cells fight against and contain the TB bacteria. Researchers are also interested if vitamin D can help in improving lung function and breathing among those with TB.
People newly diagnosed with TB often have low vitamin D levels compared to people who don't have TB. Thus, doctors and scientists think that low vitamin D might be a risk factor in contracting TB.
What can I do?
The World Health Organization and the International Union Against Tuberculosis and Lung Disease created the first World TB Day in 1982, one hundred years after Dr. Robert Koch discovered the bacteria that caused TB. World TB Day is a time to become aware and educate others on the prevalence of TB and how it can be stopped.
For 2014, the theme of World TB Day is "Reach the 3 million". Of the 9 million people diagnosed each year with TB, around 3 million people don't receive the health services they need.
Want to get involved and help reach the "missed" 3 million? Here are a few ways how:
Fundraise. You can help contribute by fundraising and donating to the research and development of TB treatment therapies.
Spread the word. Form a local World TB Day planning committee to come up with different strategies and activities using the Stop TB resource guide. You can also download and print Stop TB awareness posters to share in your local community.
Attend an event. Find an event or activity in your community to join and help spread awareness on the need for access to TB treatment options. See a list of activities and events, here.
Join a patient organization. If you have TB, you can join a patient organization to help be a powerful advocate for improved access to diagnosis and treatment of TB.
Source
People who read this page, went on to read the following pages:
Oldest Living People in the World
Coral Calcium – Goes Beyond Bone Healing